The Best Connection™
Teldor Cables and Systems, established in 1966, designs and manufactures over 6,500 cables for a wide range of applicatins including offshore installations. All of Telodr DNV approved cables are supplied with unique cross-linked, flame-retardant low smoke zero halogen jacketing materails. Many of Teldor DNV cables meet the stringent IEC 60331 flame test for circuit integrity used in "Mission Critical" applications. In addition to following DNV cable groups, Teldor also design and manufacture custom and hybrid cable constructions.
Copper Data Cables for the Shipping Industry and Offshore Installations
The cables are fully compliant with the IEC 61156 standards. All designs in this catalog are DNV approved for offshore use. The cables cover CAT6, CAT6A, CAT7, and CAT7A.
Conductors:
Solid or stranded construction Bare or dinned copper
22-26 AWG depending on requirements.
Shielding and Armoring:
U/UTP, U/FTB, F/FTP, S/FTB Armoring or Non-Armored
FiberOptic Cables for Data Communication and Emergency Systems
Our FiberOptic cables, for offshore use are for vital rapid communication and emergency systems required to be operational during a fire for more than three hours.
Fiber Types: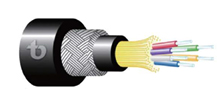 Multimode 62.5/125 µ (OM1), 50/125 µm (OM1, OM2, OM3, OM4)
Single-mode
Design Options:
Multi or Single Loose-tube, Distribution or Breakout Tight Buffer construction
Armoring or Non-Armored
Dielectric or Steel Central Strength members
Special UV Resistant Cross-linked Flame Retardant Low Smoke Zero Halogen Jacket materials
Bus Cables for Ship, Onshore, and Offshore Installations
When combining data communication cabling with the offshore environment, use Teldor's DNV Approved BUS or Industrial Ethernet Cables. Whether you require CanBUS, FieldBUS, InterBUS, DeviceNET or RS-485 cables, with any shielding and armoring option, and varying pair counts, Teldor DCables and Systems is your "one-stop-DNV-cable-shop"!
Conductors:
Solid or stranded construction Bare or tinned copper
22-26 AWG depending on requirements
Shielding and Armoring:
U/UTP, U/FTP, F/FTP, S/FTP Armoring or Non-Armored
We can also provide other brand cables including coaxial cable, antenna feeder cable, leaky feeder cable, CCTV multi-cable etc.